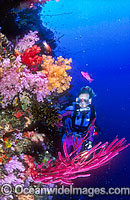 Meri reveals the true colours of the soft corals on the White Wall, with her powerful torch. (left)
Descending the drop-off into the depths of the Somosomo Straits, we were captivated by the extraordinary number of orange fairy-basslets around us; at 30 metres Meri switched on her powerful underwater torch and a rainbow burst into life along the reef wall. A profusion of magnificent soft corals pink, orange, lavender, yellow and red, it was absolutely incredible; my imagination ran wild.
We were on Fiji's Rainbow Reef between Taveuni Island and the Island of Vanua Levu this enchanting coral reef system had lured us back for the third time. The underwater seascapes here are some of the best in the world. It soon becomes apparent why there is a explosion of fairy-basslets and soft corals on the reef everything thrives in a strong, nourishing current. Ric Cammick, a pioneer diver of Rainbow Reef, describes the area between Taveuni and Vanua Levu as being like a huge funnel where a lot of water rushes through on the incoming and outgoing tides. The soft corals bloom only when the current is running, which can whiz along at two knots. Normally we would avoid diving in such conditions, but not here; when the current is racing we know we are in for a treat. Ric's outstanding knowledge of the Rainbow Reef has become quite a legend over the years, we always find his expertise invaluable. It was during our last visit that he took us to one of his old time favourite sites, the Midway Reef.
Some years ago Midway Reef suffered badly from a cyclone passing through the area and many soft corals were destroyed. It was taken off the list of regularly-visited dive sites while soft coral recolonisation took it's course and was only just revisited prior to our arrival. Soft corals develop very quickly if conditions are ideal and at Midway Reef there was no exception. To Ric's delight, the reef had fully recovered.
Split level shot of coconut palm fringed
beach and hard coral reef, Taveuni Island, Fiji (right).
Making our way down the anchor line in the strong current was physically the hardest part of the dive but once we reached the bottom the current was easily negotiated. We slowly made our way across the saddle of the reef then down the drop-off to a comfortable depth where we found a mass of multi-coloured soft corals. The concentration of fish feeding in the clear water column included magnificent schools of banana and yellow-tail fusiliers competing with several species of fairy basslets, and patrolling trevally, surgeonfish, mackerel and barracuda. The colours were vibrant and as the sun was at the right angle, we found it difficult to move on. We spent the remainder of our dive in this one spot. Later we found out that Ric had tried to get our attention but we were so absorbed with the cameras we completely missed seeing him. Apparently there was an even larger concentration of fish and colourful soft corals only 40 metres away'. The most famous of Ric's early Rainbow Reef discoveries, and perhaps the most challenging, is the Great White Wall.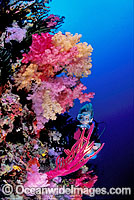 In 1974 Ric and Do Cammick decided they had had enough of New Zealand's cold weather and moved to Taveuni Island to build a holiday house. Already a keen diver, it wasn't long before Ric started exploring the Rainbow Reef and made some amazing discoveries. With an increasing number of divers wishing to visit the area the Cammicks established Dive Taveuni; their cliff-top garden property overlooks the Somosomo Straits and meanders down to a palm-swept white sandy beach, turquoise sea and magnificent hard coral gardens. The Cammicks are well known for
their hospitality, splendid Fijian/European cuisine and of course, outstanding diving. They cater exclusively for a total of 12 divers in an atmosphere that is always pleasantly relaxed. There's never a crowd. After a day out on the Rainbow Reef aboard Dive Taveuni's 13-metre custom built aluminium dive boat, guests dine together in the outside restaurant ("the deck") with breathtaking panoramic views of the Somosomo Straits. Accommodation is in modern deluxe bures (houses) set amongst beautifully landscaped gardens, with everything provided for, and the beach is only a minute away.
Note: Ric and Do Cammick have retired since this article was published. Dive Taveuni is now offically known as Taveuni Island Resort.
With it's many overhangs, ledges, tunnels and sheer 70-metre drop-off it is a spectacular dive and one of our all time favorites. The dive begins with a steeply descending tunnel laced with several fan and whip corals. At about 25 metres the tunnel opens out to a huge wall completely carpeted with icy-blue, almost white, soft corals; its stunning. Aided by a current divers make their way along the wall and exit through yet another tunnel about 100 metres further down the reef which brings them out in the shallows. It is here in the shallows that red soft corals proliferate. The fish life is extremely abundant and on several occasions we have sighted bisonfish. Due to the position of the Great White Wall, it is directly affected by the state of the tide and the strength of the current. The soft corals only really bloom on the outgoing tide, on the incoming tide they contract and shut down!
Another of our favorites is the Cabbage Patch. This is the place where the giants of the hard coral world are found. Unlike other sites, the Cabbage Patch isn't massed with soft corals or the multitude of fishes, but it equally as spectacular. Standing many metres proud of the seafloor, these enormous emerald-green plate corals have formed into shapes that look like terrestrial garden cabbages. When we dive amongst them, we always feel dwarfed by their incredible size.
The Rainbow Reef is a complex chain of reefs about 30 kilometres long. There are many other spectacular dive sites such as Blue Ribbon eel Reef, The Ledge, Annie's Bommie, Barracuda Hole, Jack's Corner, Pandora's Box and Coral Gardens, and more. Each one offers something completely different and no doubt, there are many yet to be discovered.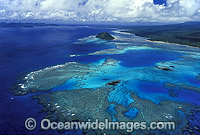 Aerial view of fringing coral reef. Taveuni Island, Fiji
When visiting the region we always take time to do a little exploring on land. Taveuni Island is very special and has somehow managed to escape the fast pace of this modern world and has not yet been exploited by over-zealous tourist operations. How long this will last remains to be seen. The people here are extremely friendly and always return a smile, which makes a visitor feel most welcome. Apart from a few productive copra plantations, most of the island is still in pristine with tall mountains, deep ravines and lush tropical jungles dominating the entire length of it's interior. With some 435 square kilometres of fertile volcanic land, this garden island paradise is blessed with many spectacular waterfalls that add a touch of romance; little wonder that Taveuni was chosen as the set for the film `Blue Lagoon' and it's sequel.
After a long day exploring the island, we often parked our weary bones at Audreys by the airport. Here we discovered the world's greatest home baked cookies and home brewed Kahlua coffee - but that's another story!
In dire straits as to your next diving holiday? Try this South Pacific Paradise with world-class diving - you won't be disappointed.
Text: Gary Bell
Photography: Gary Bell