The world is blessed by Indonesia. More species of marine life than anywhere on earth, endless numbers of active volcanoes, enchanting land and waterscapes, an extraordinary seafaring history, bizarre jungle creatures, dramatic and diverse religious culture an at least one surprise for every dive. Meri and Gary Bell guide us on a journey of unashamed luxury and indulge in the wealth of North Sulawesi's ocean wilderness - and a bit of Bali too.
It stretches more than 5000km from mainland Southeast Asia to Papua New Guinea. It comprises almost 18.000 islands - depending on the tide! It is the largest archipelagic nation in the world and unquestionably one of the most beautiful. With lush tropical jungles, bright green rice fields and steaming volcanoes dominating the landscape, Indonesia is mesmerising.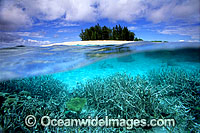 Postcard perfect - split level shot of acropora coral reef and tropical island at the Togian Islands, Indonesia.
The waters surroundings these islands are the richest in the world, harbouring more than 3000 species of fish and several hundred species of coral. The further one travels across the Pacific away from Indonesia the fewer the species found. In fact, there are so many species in Indonesian waters that naturalists cannot give an exact figure on numbers as several new species are discovered every year.

We began our one month exploration of Indonesia aboard the Undersea Discovery live-aboard diving cruise ship, MV Cehili. Cehili is very new and responsible for opening up diving around some of the remote parts of Indonesia - in particular for our journey, the Togian Islands.
Originally built in Norway, Cehili is 45m of pure luxury and is superbly equipped to guarantee the most pleasurable diving possible. Everything is available for hire on board including Sunto diving computers, Nikonos V and Sea & Sea MX cameras with flash and even an underwater video camera with movie light. The many features of the vessel include a spacious informal lounge and dining area, a library/conference room, entertainment facilities, E6 processing and video editing facilities and two large sundecks. Accommodation is in 10 huge air-conditioned cabins, each with private bathroom facilities and a CD player! But best of all, the cuisine is amazing, drawing in the finest of both Asian and Western traditions.
It was the ultimate cruise. Everything was done for us - even the rinsing off of our cameras after each dive!
The Togian Islands are situated in the sheltered waters of North Sulawesi's Tomini Bay. To our knowledge, we were the second official charter to these pristine islands to which, until now, only a handful of divers had been. Joining us on the cruise was Australian marine naturalist Rudie Kuiter, and photographers Lance and Lyn Adrian. Rudie's task was to record fish species while conducting a marine fish survey of the islands.
Cehili cruised out of the port of Bitung (near Manado) at lOpm and arrived early the next morning at Cape Flesko, a remote part of the North Sulawesi coast with secluded coves surrounded by rainforest jungle. Local villagers in outrigger canoes greeted Cehili as she dropped anchor, offering their fresh produce and handicrafts for sale.
Our diving took place right on the Equator with Cehili travelling mostly during the night to allow us up to five dives a day. Our first day diving along the coastal reefs was in relatively shallow water with scattered bommies decorated with small soft corals, blue tunicates and multicoloured feather stars. The marine life was outstanding and we found many different species of unusual shrimp living among the delicate life on the rocks. But our most amazing find was during our last dive about half an hour after the sun had gone down.
Meri and I peered into a small crevice when suddenly a juvenile pinnate batfish (platax pinnatus) popped right out in front of us. Its bright orange fringed outline glowed like gold against an otherwise drab black body. It was a rare find - a fish I had longed to photograph! I motioned for Meri to shine the torch in the direction of the fish so I could focus the lens. She did and, you guessed it, the little guy disappeared without me getting one picture. It was obviously in no mood for a burst of artificial light. Naturally I did what every fish lover would do.
Wait...
for what seemed like hours...
just in case the batfish reappeared...
eventually, Meri's patience wore thin...
We were making our way back to the boat when there it was! Not the batfish, a black featherstar spawning in all it's glory. We couldn't believe our eyes, I had never before watched a featherstar spawn. It was another rare find, we felt very privileged.
In between dives we made a quick trip ashore, where we were greeted by a village elder who offered to take us on a guided tour of his fishing village. There are no power lines or roads here. Apart from sea transport, these people are completely isolated from the rest of the world. It was interesting to see their simple lifestyle and their very old ming china which was enough to whet the appetite of any serious collector.
We spent the next five days exploring the Togian Islands which were very different from the coastal reefs. The water temperature was higher here and the visibility much clearer, averaging around 28 degrees Celcius. Many of the islands we visited were of coral origin surrounded by magnificent fringing deep water reefs.
My personal all-time favourite was Dondola, a tiny island, no larger than a football field with a healthy cover of tall Casuarina trees. On one side of the island we dived a sheer drop-off only 5m beneath the surface, plunging to great depths. Decorating the many overhangs and crevices were huge black coral trees with soft corals, sponges and sea whips adding colour to the wall. Like clusters of screaming trumpets, huge chimney sponges reached out into the liquid blue - it was like a dream, but true.
On the other side of the island there was a magnificent coral lagoon that bathed a white sandy beach. Here we snorkelled among some of the best Acropora (staghorn) coral gardens I have ever seen. The fish life in the lagoon was very good. I could have happily spent the whole day there with my camera and a swag of film on the beach.
Jewas Sand Cay was another interesting dive out in the middle of nowhere. All we needed here was a large beach umbrella, two deck chairs and a fancy bottle of champagne and we would have had the perfect postcard setting. The reef at Jewas Cay slopes away very quickly to a sandy bottom with huge barrel sponges and clusters of chimney sponges dominating the terrain. What amazed us most about this place were the numbers of tiny white holothurians (sea cucumbers) crawling over orange elephant-ear sponges, obviously feeding on the organic debris ensnared on their tentacles. They were literally in their thousands! Similar to these holothurians in size and appearance were numerous white pipefish nestling among carpets of colourful christmas-tree worms. We watched banded sea snakes search for prey in cabbage coral and lionfish successfully hunt tiny translucent fish in water which absolutely teemed with life.
The fish life around the Togians is incredibly varied and we saw many species we had never spotted before. Although we did sight dog-tooth tuna, mackerel and the occasional shark, they were far from common. Cehili's crew have since found sites at the Togians where manta rays, sharks and other pelagics are regularly sighted.
Simply put, this cruise would have to be one of the best we have ever done. Of course the fact that there were only six passengers opposed to 22 crew, helped considerably! Cehili is for the diver who wishes to indulge. The service, the space, the facilities and the above water activities make it an especially good option for couples in which one partner does not dive or for divers who wish to explore Indonesia's surface delights as well as its seascape.
With the Togians behind us we continued to explore North Sulawesi, basing ourselves at Manado and Nusantara Diving Centre (NDC). Scenic mountains are the perfect backdrop to the rich reefs of Manado Bay, famous for its sheer walls and abundance of fish life. Four different dive operators in Manado are presently catering for divers who come from around the world to explore these virtually untouched reefs.
NDC's Loky Hemberlang pioneered diving in North Sulawesi and has devoted much time and effort to promoting and preserving them. Loky's early dream to see the Manado Bay reefs protected soon became a reality after beginning a program of conservation among the local fishermen. Finally, in 1989, the Federal Government recognized these reefs as being of international value and declared the Bunaken-Manado Tua and Arakan Wawontulap area's National Marine Parks - a total of 89 065 hectares of reserve. In recognition of Loky's dedicated conservation efforts, Indonesia's President Soeharto awarded him the Kalpataru Environmental Award in 1985.
Although the Manado Bay reserves are declared National Marine Parks, they are not yet fully protected. Spearfishing is still practiced by the local villagers who hunt the shallows with home-made spearguns while wearing simple goggles made from coconut shell. They have been hunting these reefs for generations and still depend on the sea for their livelihood. However, the future of these reefs looks promising as plans are under way for the Government to teach the people new fishing skills, whereby they will fish open waters for pelagic species.
One of our favourite dives off Manado was at night at a place named Tanjung Pisok. The dive started with a gentle slope that dropped sheer to a wall almost completely covered with vibrant orange soft corals. Enormous one metre basket stars hung everywhere, their intricate lace-like arms cupped into circular dishes as they fed in the plankton-rich water. We saw juvenile scorpionfish, decorator crabs, banded coral shrimp, electric coloured blue-ribbon eels (close relatives of the morays) and arrow crabs in their hundreds.
Manado is a bustling city of 50,000 people which may not appeal to everyone. But the hill country of Minahasa, as the area around Manado is known, is definitely worth exploring. A tour through this scenic area will reveal many authentic traditional villages, Japanese WWII tunnels, mountain lakes, smoking volcano craters and an ancient cemetery with tombs dating back to the 14th century.
Minahasa also has a wide range of habitats and is home to some of Sulawesi's most unusual endemic species. One of these is the Tarsius, a carnivorous monkey no larger than a guinea pig, with big goggling eyes and a ferocious appetite for insects! We joined a special rainforest excursion to see this most unusual primate.
On our way home we dived in Bali on the reefs along the north-east coast. The dive we favoured most here was the Liberty shipwreck at Tulamben which is a favourite for every diver that visits Bali. Easy access to the wreck and its abundant marine life have made it Indonesia's most popular dive, attracting a regiment of divers every day of the year. To avoid the crowds we checked in at Tulamben and dived the wreck in the early morning and the late afternoon.
On January 11,1942, this Liberty class WWII ship was torpedoed by a Japanese submarine while crossing the Lombok Strait. She received extensive damage and was being towed to Singaraja by two destroyers when it became obvious that there was no hope. To save the vessel from sinking the captain gave the order to run her up on the beach at Tulamben, where she sat for 21 years. In 1963, the nearby Gunung Agung volcano erupted and pushed the vessel off the beach to her present resting place.
The shipwreck lies parallel to shore on a steep sand slope only 30m from the beach with part of the super-structure just four meters below the surface. One side of the hulk is partially buried in the sand and the other rests on the bottom in 29m.
The life on and around the wreck in unbelievable! Tunicates, soft corals, gorgonians and encrusting sponges cram every surface while more than 400 species of reef fishes go about their business. What this dive lacks in water clarity is certainly made up for in life - it's everywhere. You name it; it's all there - even flashlightfish. I even saw a huge sunfish being cleaned of parasites by bannerfish at one of the wreck cleaning stations. In all my years of diving, this was the first sunfish I had ever seen!
But that's the thing about Indonesia; you just never know what will turn up from one dive to the next.
Text: Meri & Gary Bell
Photography: Gary Bell